The Oakland Raiders have been up and down for decades. They are far removed from being the dangerous and intimidating team they once were during the John Madden and Al Davis days. Most Raiders fans hoped that former head coach Jon Gruden could rekindle that glory, but he lost that opportunity the moment his emails were released and he resigned. So to celebrate what the Raiders once were, I have found some memes. Here are 25 laugh out loud memes…
---
1. Raiders New Mascot…

2. What Raiders Fans See…

3. How To Know If You Are A Raiders Fan…

4. The Raiders Suck At Drafting…

5. How Does A Raiders Fan Change A Light Bulb?

6. 1st Half vs 2nd Half…

7. Penalizing The Oakland Raiders…

8. Raiders Fans Be Like…

9. Raiders Fans Spelling…
\
10. Raiders Fans…

11. Raiders Going To The Super Bowl?

12. Raiders Logo…

13. Free Tickets…

14. Raiders Halloween…

15. Raiders Fans Living In The Past…

16. Trying To Turn Their Season Around…

17. Raiders Fans On Social Media…

18. Teach Them Young…

19. Raiders Fans Be Like…

20. This Is Our Year!

21. Raiders Logo…

22. Raiders New Stadium…

23. Missing You…

24. Hard Knocks Featuring The Oakland Raiders…

25. Opening Day…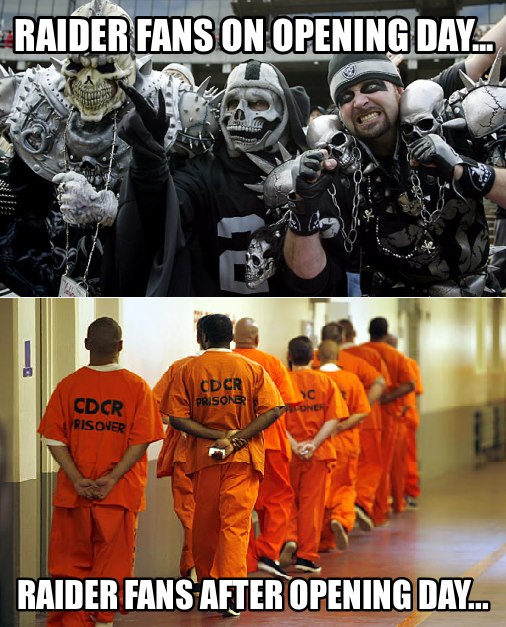 ---
About TooAthletic
TooAthletic Takes is the News division of TooAthletic. Launched in 2019, TooAthletic Takes is a source for all your sports takes. TooAthletic Takes will make you laugh, cry, get mad, and even call us "idiots." We strive to give our readers another viewpoint on any sports situation, and we look forward to disagreements with the hopes that it leads to healthy discussions and debates.
TooAthletic Takes aspires to be the #1 source for all sports takes, and become a leader in sports media.
Categories
Worried/Not Worried About Takes
25 Laugh Out Loud Raiders Memes | TooAthletic.com